Ex-Belfast HUNT webcomsic illustrater,
Matthew H Smyth
, has for over a year dodged requests for completion on his comics commission from myself, Andrew Luke. The commission came from an award given to me by Belfast City Council and Workwest's business entreprenuers fund. A loophole in the program meant Smyth did not need to provide evidence of signing any contract. A willed program of neglect and avoidance coupled with Smyth's capitalising on social currency from his relationship with me brings me to the decision: his work should be boycotted until such a time as he agrees to return the money. Here Endeth Matthew Smyth.
Belfast comics poetry artist
Dale Mawhinney
was one of those considered for the job. Dale writes that he's taking commissions for painted work. You can see Dale's beautiful gear at
http://www.dalemawhinneyart.co.uk/
Miguel Martin
is becoming a bit of a Vine funster supreme lately. Last month, he opened his tweet-stream up to drawing requests. For your viewing pleasure, here is some
Maggie Thatcher shotgun
and some
Jeremy Kyle bowel incapacity
And yes, actually:
he's been painting Lavery's Bar too.
Stephen Maurice Graham brings us his version of Spiderman
: it's a keeper,
@400facts
.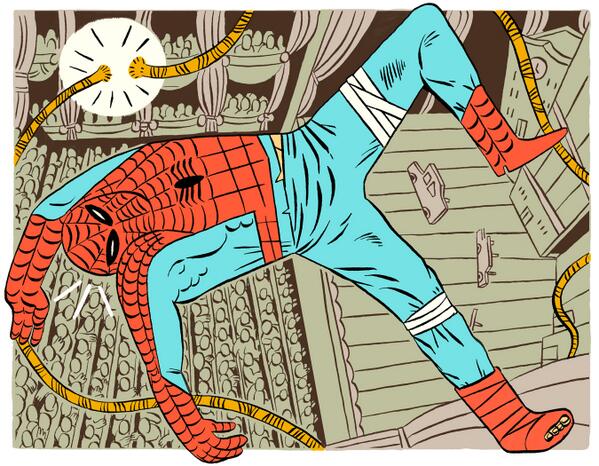 PJ
is
Holden
a sketch club at
the W5 on Sunday 29 March from 2-4pm
with models costumed fantasy characters. As far as I know it's free.
A reminder too, that while the Belfast Comics Group no longer meets on
the first Thursday of the month, Seedhead Arts' Real Sketchys do.
The event is fairly unstructured, a bit of fun and held in the warm environment of The Black Box, just after 9.
Issue 1 of Jennifer Wilde is now available from Comixology
at only 69p. It's the first of Atomic Diner's range, presumably others will follow.
The Comics Journal reviews Cu Chulainn
in a comparison of
Paddy Brown
's
Cattle Raid of Coole
y and
MK Reed
's
About A Bull
.
There's a bit of praise from Britcomics impressario Pat Mills on "Bottomley - Brand of Britain", In his introduction, the work by myself,
Ruairi Coleman
and
John Robbins
is
"valuable"
with '
excellent research'
.
The book "To End All Wars" is up for pre-order on Amazon.
It's due out in July,
just ahead of the Belfast Comic Con.
Finally, an Exclusive!
Rumour mill has it that
Fermanagh College (Enniskillen) are organising a convention
focussing on
"Games Development/ tv and films/Effects and Comics"
happening on
9th-10th May
. We're waiting for the college to put out an official notification. More definite is that a weekly group meet around these interests happens in The Townhall Street Wetherspoons most Saturdays from 11:30am to 2pm-ish.